A fabric round up for Autumn/Winter 2011-12. Inspired by the trend forecasts of Peclers Paris - written by Amelia of Bournemouth.

Florals
.
Florals tend to be of spring/summer territory. Unless you're
Cacharel
of course. These beautiful ditsy floral prints work so well in a series of autumnal colours for dainty dresses and a heavier style of outerwear. Clashing together prints and colours, broken at the waist with black statement waist belt to tie up an ultimate feminine style.
The Vintage Check.
The vintage check. Lumberjack, Tartan, Gingham. Taking inspiration is all American designer
Tommy Hilfiger
. His preppy style is reminiscent of a vintage university style uniform, with cable knit roll necks, v-necks and the gathered paperbag belted waist line.
British Check.
Mixed up. Re-coloured. Blown up. The 'British Check' a patriotic nod to british country gents, elitist universities, men in uniform. Military-esque tailoring with a feminie twist and a nod to the highlands with shearling linings and thick wool fabrics - See how
Rag and Bone
do it.
Fur.
I don't think there has been a season were fur is strictly 'in' or 'out'. Basic human instict in the freezing weather to grab some fur and keep warm? Well
Pringle of Scotland
demonstrate the most sophisticated use of fur of recent collections. Whilst the 60s and 70s revival continues through SS11, expect AW11/12 to bring cleaner, minimalistic trends - reminiscent of the 60s barbarella futuristic style.
Lamé.
Don't be put off by the word itself. Lamé is no longer cheap and nasty (well, within reason) as
Isabel Marant
proves by stamping her chic parisienne style on statement jackets, skirts and trousers. I've spied a few high street replica's already....Can you guess which ones?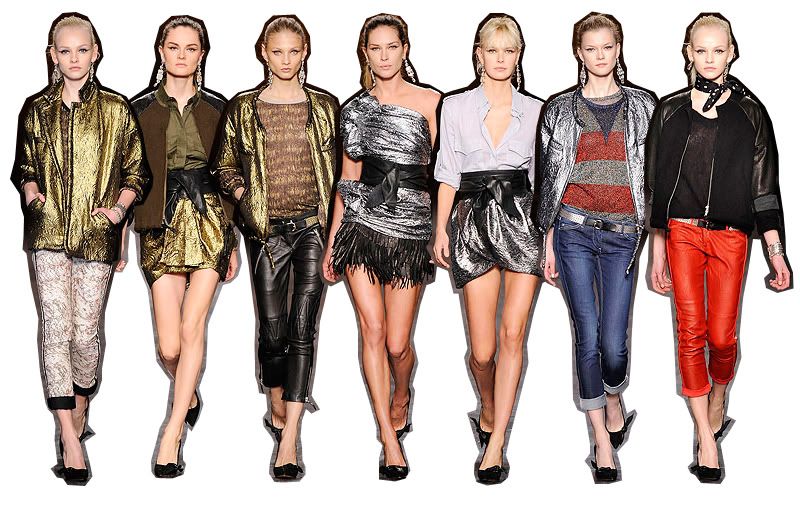 Velvet and Corduroy.
Can these two fabrics that are so often cringed at become high flyers in the autumn/winter world of fashion? Velvet has. Cord is trying. Is
Bottega Veneta
brave to twin the two together?
Galactic Looks.
Cynthia Rowley
takes a cosmic approach to digital prints and makes camoflage celestial with gorgeous pastel coloured patterns. Puffa jackets, and gloves fit for an astronaut creates an out of this planet galactic look.
Blurred Colour
.
Blurred colours are the new tweed.
Tony Burch
plays with bright colours, which are incorporated into her new style of tweed - sticking to classic shapes and silhouettes.
Rusty Denim.
Rusty Denim from
Byblos.
Distressed, bleached, washed, ripped, treated, dyed, embellished. Take denim. Make it worn. Make it yours. Customise your denim kids, you'll be on trend for AW11/12.
MAKING A COMEBACK
Shearling.
Lace.
Ribbed Knits.
Folklore.
Jacquards/Brocades.