Hello! Only me! I hope you remember who 'me' is. Sorry for the lack of blog posts - it's been a busy few weeks! The low down of my past 2 weeks:
- I went from Intern to Online Content Editor in the space of a day for Donna Ida! ( Follow the
FB
and
Twitter
to keep up with me during the day!)
- My evenings are consumed with London house hunting - not fun.
- I spent 3nights watching the news from 7pm until 3am during the riots.
- I went on slim fast for a week (don't bother - it's pointless)
- I HAVE NO CLOTHES etc etc
- I've been reading a lot of the LOOK show entries (comment or tweet me your entries)!
- I reached 500 blog followers! (YAY - and HI!)
- I said goodbye to my mum and dad who are off traveling around Canada/Alaska until the end of Aug for her birthday (and feel bad for not giving her a card to take with her - so am dedicating this post to her HAPPY BIRTHDAY MUM!)
If you follow me on
Twitter
you would have seen me tweet about my mum's awe of Mary Katrantzou following an earlier post - the design genius herself retweeted me (amazing) - so as this post is dedicated to my mother bear I thought I would share why Mary Katrantzou is my favourite fashion designer.
Autumn/Winter 2011/12.
With a soft silhouette and luxurious print the AW11 collection was inspired by museums, vases and those funny egg things that Michael Jackson collected (you will know what I mean if you watched that Martin Bashir thing years ago!)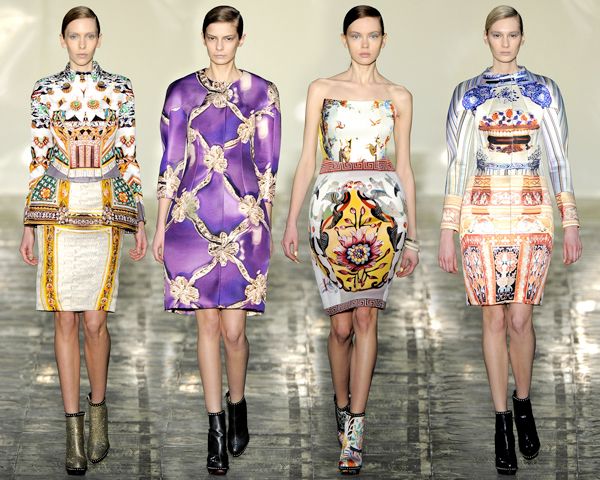 Spring Summer 2011
.
Heavily influenced by a family background of interior design, Katrantzou's SS11 collection took skirts in shape of a lampshades and dresses with extravagantly decorated windows and 3D curtains.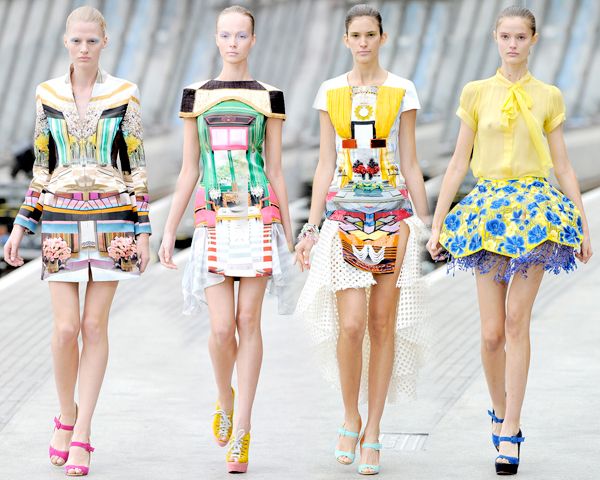 Autumn/Winter 2010/11
.
This one was inspired by the renaissance period and featured a lot of gold embellishments! I got to see this collection up close at FashionWeek - insanely amazing! (Check out my write up on
Trendland.net
)
Spring/Summer 2010
.
This collection was inspired by the art of Glass Blowing! Which seems like a completely natural thing to inspire a collection come to think of it - I wish I had thought of this.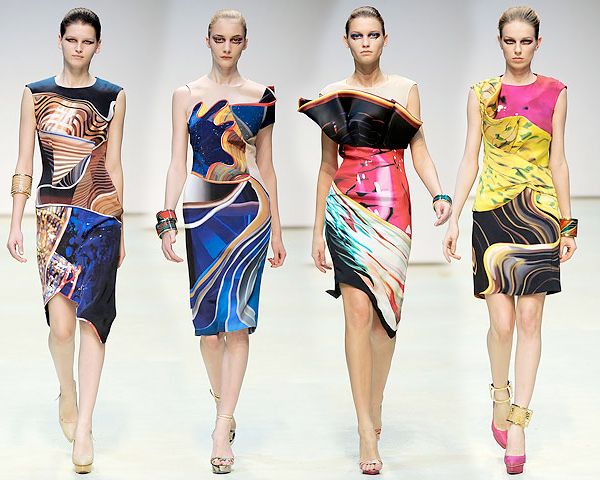 Autumn/Winter 2009/10
.
Her debut collection as a New Gen designer - inspired by perfume bottles. Are you seeing why I love her so much?
Does anyone else share my love for Mary Katrantzou? Or are you still angry with me for not blogging in 2 weeks? Lots of love to all of you (esp you mum) Xxx