Around 6 months ago I did an
SS12 Men's Edit
so it's about that time again (post Men's Fashion Week) to do another. Seems a little odd seeing as we've not yet hit Spring...but hey! It's snowing outside and is there a better excuse for me to look at male models on a Sunday afternoon - i think not!
Acne.
I spy driving jackets. I spy Leather. I spy...printed red trousers? In my eyes you can't go wrong with a pointed collar and a double breasted NAVY jacket. Brown leather trousers, hmmm, not so much. Bowling bag, yes! Cropped sleeve coat, no. But what this Swedish cult label is spelling out is L-A-Y-E-R-S (it is winter I suppose. Duh)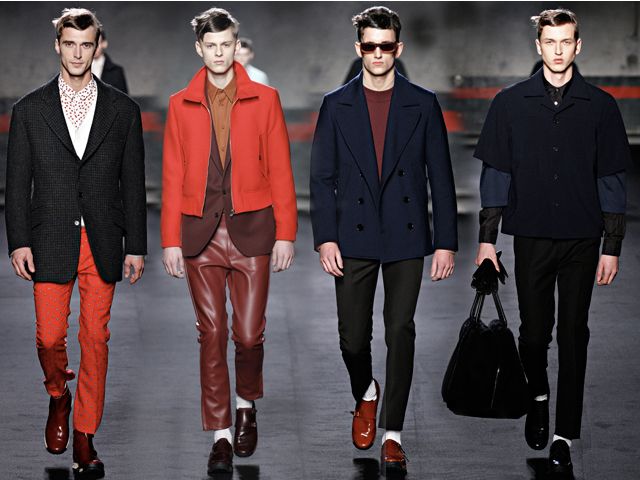 Carven.
I. Love. So it appears Tin Tin has had an influence on Madame Carven's French fashion house. I'm not complaining. I love the mixture of Teal and rich shades of wine red. Tailored trousers. Tailored jackets. Shirts and rucksacks. Tobacco camel colours are back too?
Louis Vuitton.
Not much to say here except cheekbones. Oops, i mean suaaaaave. It's farmer meets pyjama meets varsity meets BANKER. A banker trend hey? Who'da funk it.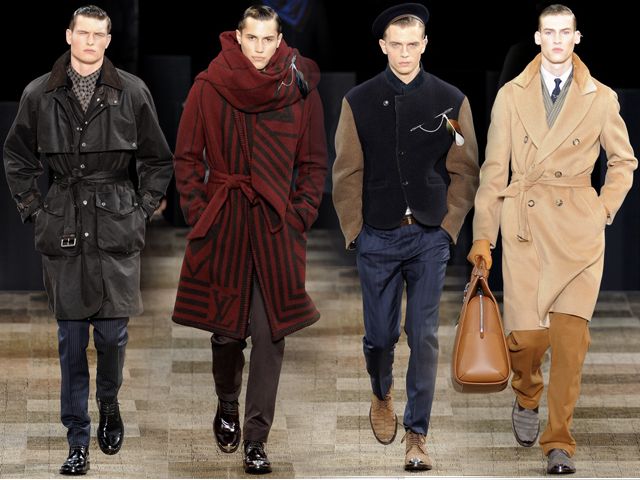 Givenchy.
Givenchy. Just casually stitching male model's mouths up. Everything else is pretty self explanitory. Varsity jackets, graphic prints, thick stripes and smart coats. Add a star in for good measure.
Burberry.
Oh. There goes that farmer/banker style again...Quilted jackets have been the in thing for men for the past few years. I'd like to see someone take on the PUFFA. Yes with a velvet suit underneath, but of course. Tis the only way to wear a puffa jacket don't you know...
So there we go girls and boys (hopefully) a small round up of what's to come. Or indeed, what to wear now as I don't see the sun rearing it's pretty little head anytime soon.
Amelia xo