I don't know what it is about me but I am fascinated by anything 'behind the scenes' - I think that comes from being a general nosey
parker
. Who can I blame for this?
TV
? Internet? Yeah, why not!
Soooo
anyway my latest bout of nosiness sprung whilst researching into AW11 trends. Casually browsing through Style.
com's
round up of
Chloé
and I noticed Hannah
MacGibbon
wearing the largest flares with the BIGGEST turn ups known to man. See below. And so a blog post was born...Fashion designers. They create the worlds most coveted clothes, but how stylish are they really?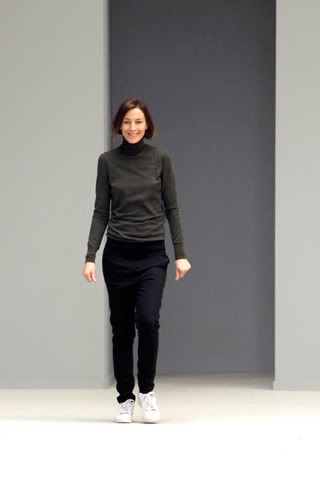 Pheobe
Philo
. She's a bit of a big deal where fashion houses in Paris are concerned. She's worked for Stella McCartney, Chloe and now Celine. Here she is at the end of her AW11 catwalk show wearing a grey
polo neck
, black trousers and trainers. Sporty chic? Where are the heels?!
Here's what
Pheobe
made...
Diane Von

Furstenberg
Ah Diane. Can't say I can fault her. She's sophisticated chic and so is her brand.
Here's what Diane (and friends) made...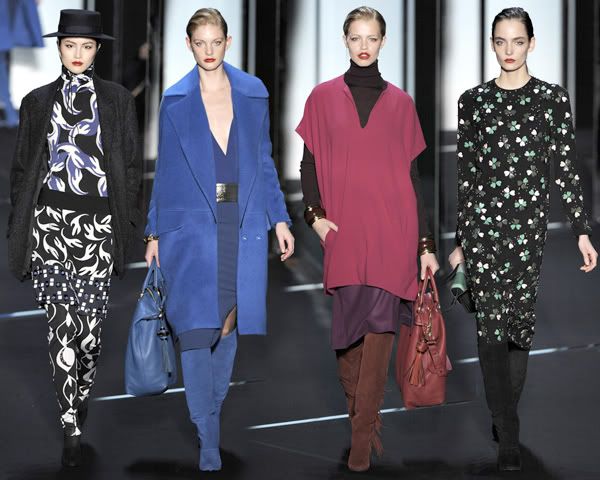 Hannah

MacGibbon

for

Chloé

.
Flares. Weird wedge shoe things. I'm sorry but I could eat my dinner out of those trousers! In fact I could eat a whole weeks worth of dinner out of those trousers they are so large! Now here's the shocker. Check out what Hannah made...
Louise Gray.
Yaaaaaaay
Louise Gray. She's crazy cool. Now here's a fashion designer whose personality shines through their collections.
Here's what Louise made...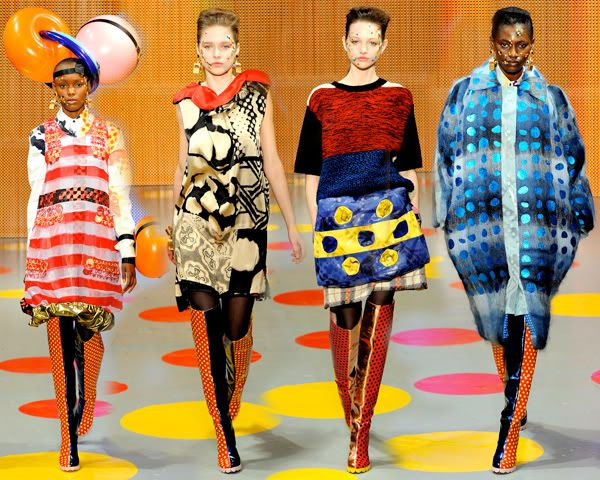 Miuccia

Prada

for

Miu

Miu

.
Bonjouuuurnoooo
Miucciaaaa
. (said in bad Italian accent) She made Bananas cool for
Prada
, and her sub label
Miu
Miu
is one of my all time favourites - I would happily dress all winter long in this collection (could I afford it).
Miuccia
Prada
has an old school
glamorous
style, it definitely shines through the collection right? Here's what she made...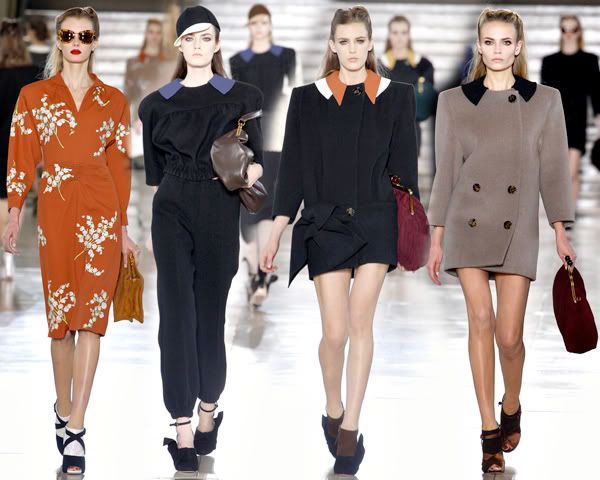 Emma Hill for Mulberry
.
I don't know much about Emma Hill. In fact, only after my nosing around have I learned of the designer behind Mulberry. She looks stylish enough, in a very relaxed way! I love love love Mulberry. Love love
loveeeeeeeee
. So naturally i love her too!
Here's what Emma made...
Alice

Temperley

.
Alice
Temperley
looks like a pirate. But still, a nice lady pirate with a stylish head on her shoulders. She definitely shows personality in her dress sense. It's just not as polished as her fashion label!
Here's what Alice makes...
Mary

Katrantzou

.
Yasas
! Greek lady Mary
Katrantzou
, possible the most creative female in the London Fashion scene (in my opinion) is
surprisingly
plain and simple in the way she dresses. Always scene wearing black, if she's saving the colour in her life for her collections - then I have no qualms as they're bloody beautiful to look at!
Here's what Mary made...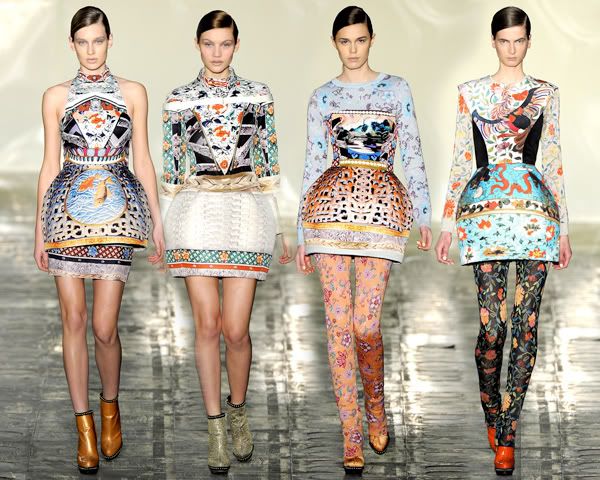 Vivienne

Westwood

.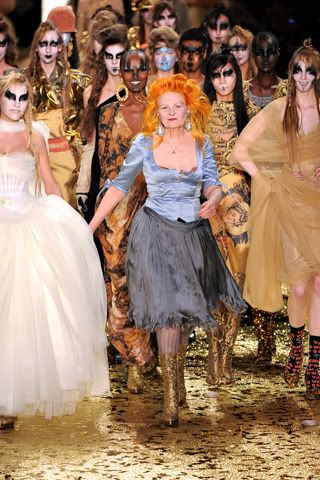 All hail the fashion queen. I don't really need to say anything here do i? Everyone knows Viv is completely punk from the way she dresses to the way she designs - wouldn't have it any other way!
Here's what Vivienne made...
Sonia

Rykiel

.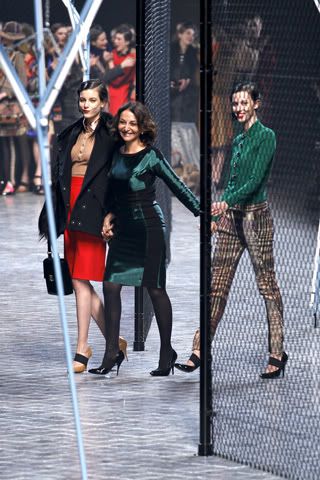 Twit
twoo
. Check out miss glamour (maybe
Mrs
? I'm yet to nose into the life of this french designer!) It's actually Sonia Rykiel's daughter Natalie!
Here's what Natalie and Sonia make...
So that was long! Did you like it? Share your favourite designer style. Can't believe
I've
missed Stella out. I'm practically in awe of her life, maybe I could make this into a two parts blog post...
hmmmm
....
Amelia
xo
Footnote:
Hola
!
Bonjour
! Hello! Hi! I am officially a rubbish blogger, no post all week. Hopefully
I've
made up for it with this post :) Just wanted to say a big hello to everyone, as i know
I'm
a bit crap at doing that. By the way -
I'm
a lot more interactive on
twitter
- feel free to follow me if you miss me! I've been so busy at the moment interning in London (
hence
the lack of posts) and I will admit i am the worst at replying to comments - so I would love to here from you on Twitter, I'm constantly emptying my thoughts onto it! Lots of love!