Killing two birds with one stone here. I could not let the Paris Couture collections pass me by without a collage or 3 (thank you for the compliments on them by the way, they take forever!) whilst I was going through them on style.com I was imagining which celebrity would be worthy of wearing it on the red carpet. Then I got to thinking about possible Oscar outfits, and wham bam thank you mam. Now I will admit I don't know anything about the Oscars, or who is going to be invited, I just fancied getting creative!

I know this post is heavily favouring the stunning Elie Saab collection - which is by far the most beautiful! To be honest the rest seem a little bit...mediocre. Chanel is chanelling 1999 with those Skirt/Trouser/Skouser type things, Dior was a bit frumpy, Valentino a little to sheer and Givenchy is beautiful - if not a little unwearable. If I was a stylist I would dress everyone in Elie Saab. Budget permitting of course...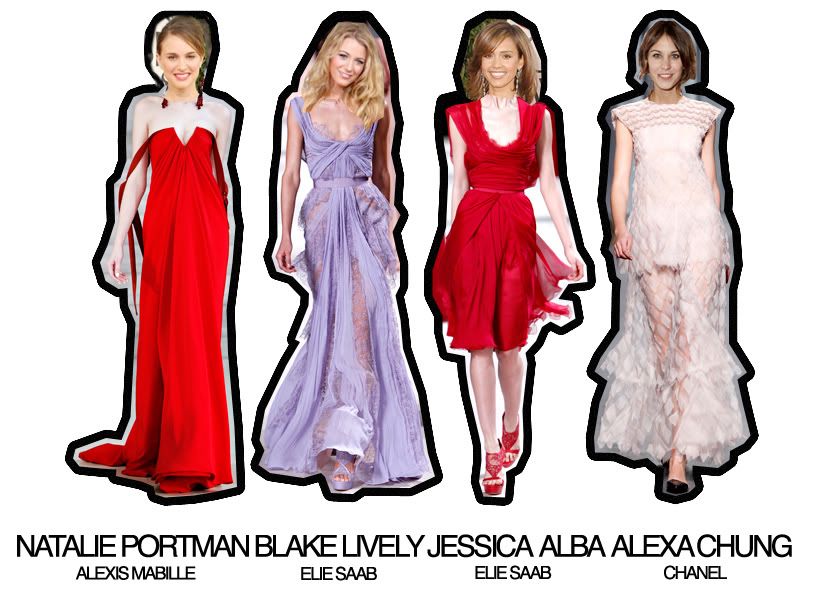 What do you think of my predictions?
I would love to see Blake Lively in that Elie Saab dress...and I was so torn between several dresses to put on Anne Hathaway she could easily wear any of these. My favourite of the bunch has to be Mila Kunis in...Elie Saab, and Helena Boham-Carter in Jean Paul Gaultier ( I was tempted to photoshop some different coloured shoes on her - legend!)