Could you have imagined this time last year that
Topshop
would be selling Banana print leggings? Well that my friends is the doing of Prada. Asos are also jumping on the banana wagon with this cropped tee! Do you think you could get away with the banana leggings AND a colbalt blue stripe tank from Topshop? I challenge you! If not, these striped dresses from ASOS are the next best thing to a Prada outfit.
Miuccia Prada's Banana earrings. Replica's on sale at
Punky Pins
.
Clashing brights of Orange and Pink and contrasting black stripes are to me the definition of 'colour pop' - A lot of Topshops inspiration for fabric and prints seem to stem from Prada's Spring/Summer 2011! Check out the that Topshop midi bodycon skirt. It's a dead ringer for Prada!
Clashing colours work well, but so do colour blocks! I would try an accessory with a bright coloured trouser to start - or find a bright coloured jumpsuit! This colbalt blue rucksack is a premium leather bag from
ASOS
, and this orange satchel is on my wishlist from
River Island
.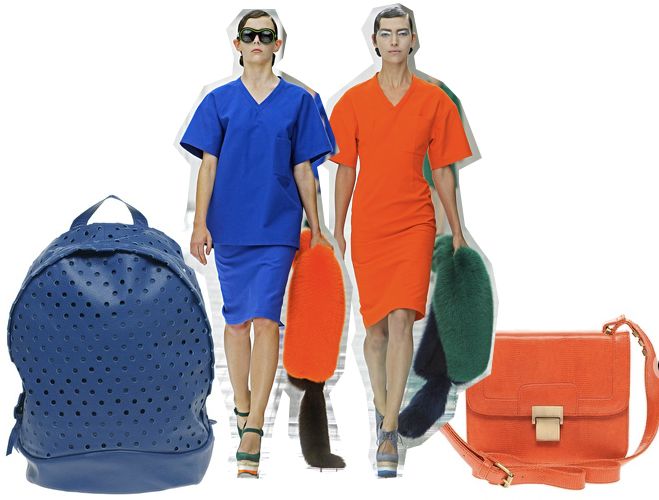 Knits from
Zara
, and embroidery from River Island. Whilst in topshop white creeps in to seperate the stripes!
More Stripey knits from Zara, whilst Topshop Clashes stripes in their own way in a 2 in 1 dress! Asos get the bottle green into their summer stock with a leather satchel (that I want want want!) and a black and orange stripe dress (reminds me a lot of liquorice all sorts!)
Have you noticed the Prada fever taking over the high street? It's been creeping in for weeks now! Do you think you'll be buying into the clashing colours and thick bright stripes? Or even better the Banana print leggings??
If you do be sure to let me know, i'd love to see someone in them!
Amelia xo
PS Don't forget my
giveaway
for a pair of £85 Polaroid sunglasses!