Trends from the LOOK Show...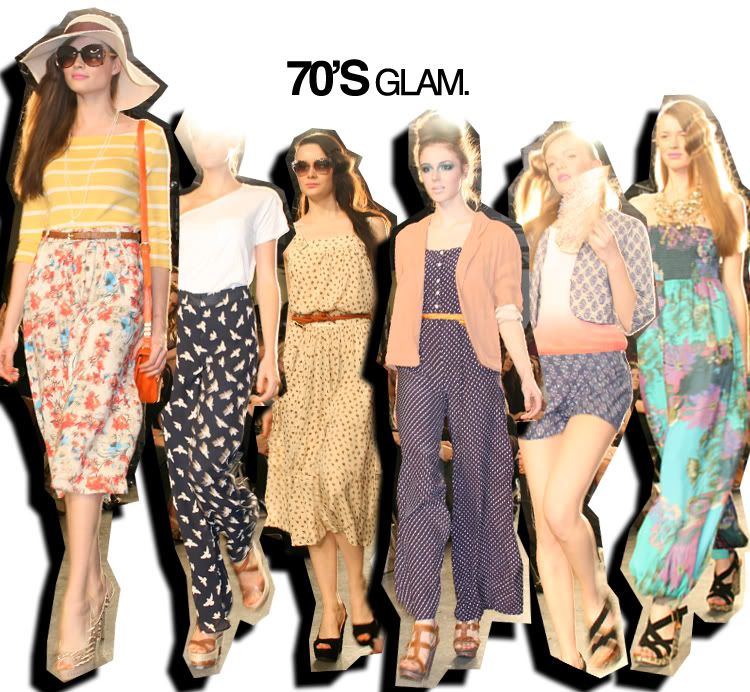 If you live and breathe fashion you'll know the Seventies is one of the biggest influences of spring/summer trends. If not I will excuse you, that rock you've been living under must have limited fashion resources. The 70's era has inspired Palazzo pants, midi skirts and jumpsuits to claim their rightful place in the forefront of fashion. Not to mention the ditsy floral and polka dot prints. Not just in clothing, accessories take on the 70's with floppy hats, oversized sunglasses (not that they ever really went anywhere) and cork wedges and chunky heels!
Top tip
- Create a high waist. It will give new dimensions to an outfit and add a retro feel.

Best Place to buy on the High Street
- Monsoon, Mango and River Island.
The perfect colourways for Spring and Summer, fruity hues are making an impact on fashion in a big way. The perfect choice for a feminine outfit and extra cute in a floaty fabric. The palette can be layered with sheer fabrics and even lightwear knits, to acheive a perfect cocktail of colour. The light shades are also good for clashing prints, as nothing looks to heavy in a lighter colour.


Top tip -
Peachy pastel shades with deep reds make an excellent colour combination.

Best place to buy on the high street
- Mango, New Look and French Connection.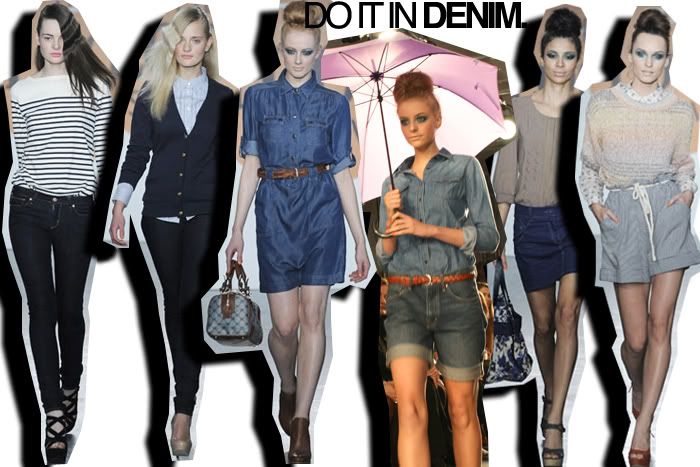 Double Denim. One of those trends you can easily get wrong, but get it right and you look oh so chic. With this season being big on the 1970's we can't escape a denim ensemble. Although it doesn't have to be 70's inspired. I loved the way Uniqlo used denim in a preppy/nautical way. Nothing new, but very wearable!
Top Tip
- Double it up with dark skinny jeans and lighter shirts. Denim in a similar wash in jeans and a jacket can look a bit
Justin Timberlake and Britney
rather than the more desirable
Chloé
.

Best places to buy on the High Street
- Marks and Spencer, Uniqlo, Mango.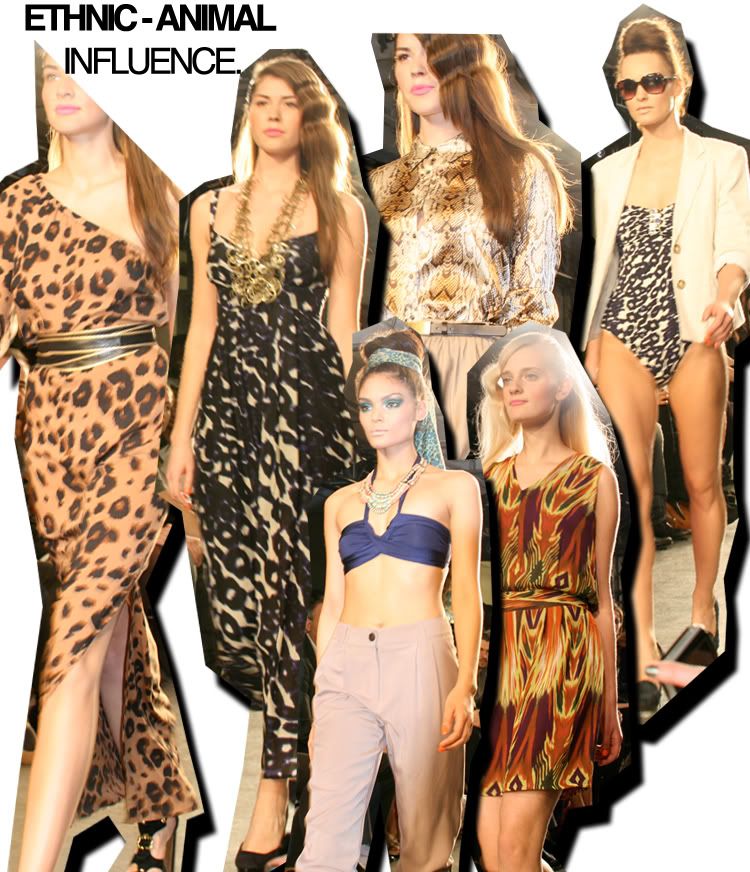 Animal and tribal prints are great for day wear, evening wear and even beach wear! Not just the usual leopard prints but also snake prints, heading into a more western direction like the Mexian/Navaro
fringe trend
i recently blogged! Tribal influences are featured heavily in jewellery and accessories with aztec inspired pendants and bracelets! Not to mention the amount of tassles and saddle bags there are about!


Top Tip
- Animal prints, in my opinion, look better either in subtle shades or looser fits. And the higher the quality of the fabric the better!

Best Place to buy on the High Street
- Warehouse, Next and Marks and Spencer.(All great quality!)
There's no better way to stick your middle finger up at the rain than a bright colour. Just like Jil Sander take a bright colour or 3 and wear them all at the same time. Just like Prada take multi-coloured stripes and rock it! Colour blocking can be acheieved with rainbow stripes or more subtle blocked colours! Mini trends within coloured clothing are pleats for a more 3 dimensional texture, stripes and bows!


Top Tip
- The brighter the better!

Best Place to buy on the High Street
- Warehouse, River Island and H&M.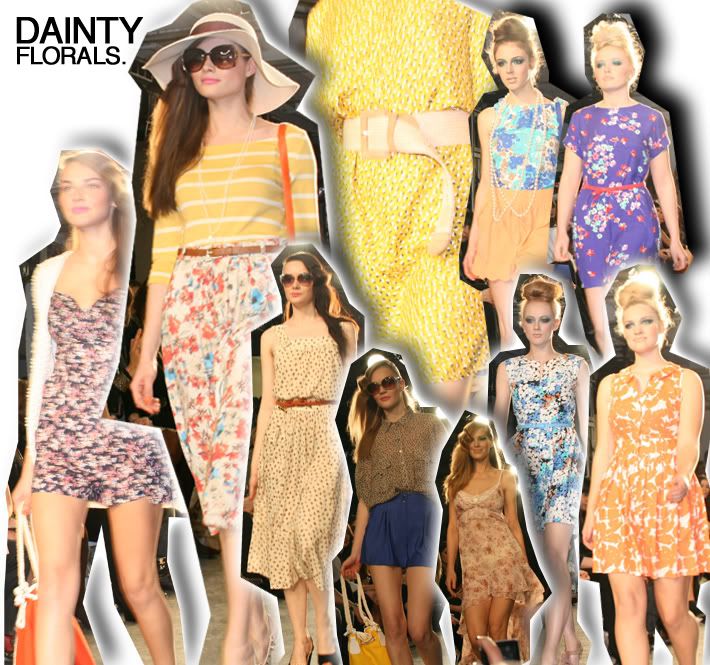 Florals are an amazing way to incorporate lots of trends in one. You could have a 70's floral, in a bright colour with a clashing alternative print and boom 3 trends in 1! Florals will be seen in lots of midi lengths and cute tea dresses for the ultimate feminine summer party look. It's a trend for anyone, it was great to see the Curvy Model finalists in this trend! Just looking at all these ditsy prints makes me want to go flip flop shopping!


Top Tip
- Wear the print accordingly to match your body shape. For example, Pear shapes wear print on top and blocked colour on the bottom and vice versa for top heavy girls to divert attention!

Best Place to Buy on the High Street
- Dorothy Perkins, New Look and Mango.

Goody Bag.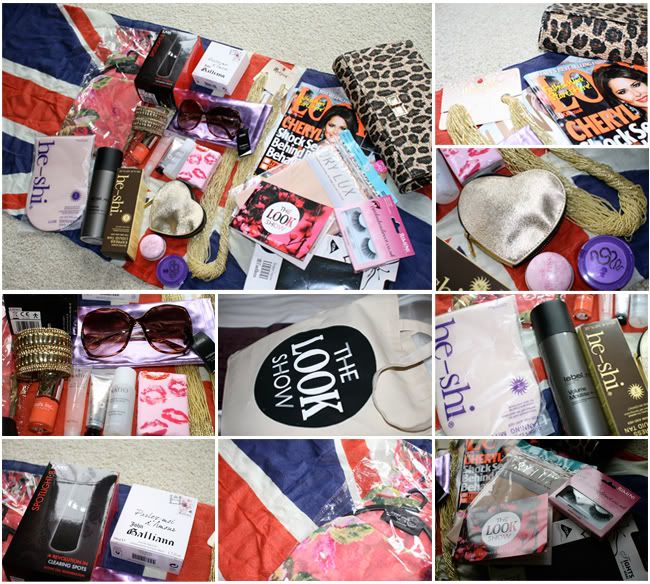 The contents of my goodybag took up a whole lot of carpet space when i emptied it out! I've shared out a few bits with my mum already, the New Look scarf and Monsoon Jewellery were right up her street - on the basis that we can share it of course...
This Galliano perfume is yum! I think that and the Sunglasses and Label M mousse really got the OMG's out. I might do a give away of some of these bits, which would you like to see in a give away? I've had so many new followers in the last couple of weeks I feel the need to reward you!!
Shopping the LOOKS...
The day after the LOOK Show I spent a fair few hours in Westfield shopping centre! As it was just across the road from the hotel it would be rude not to, and I had so much inspiration from the show! I wanted to look in the shops that had impressed me the most - unfortunately didn't take many pictures because some of the shops look at you like your a loon if you get your camera out! The accessories in Next and Dorothy Perkins really did it for me, some gorgeous floppy hats in next and I need these nude shoes from DP. Only £38 - bargain!
Dorothy Perkins.
Next.
Next.
L-R: River Island and Hilton Slippers.
What I bought...
Following the current trends throughout the show I was in love with this peach colour, the blazer was £14.99 from H&M. I saw a girl at the show matching a peach blazer with a deep berry red jumpsuit. I tried to find these
tapered trousers
from New Look, but to no avail! I will keep looking!
I also bought the outfit above from River Island, colour blocking brights - check! It also had a preppy feel to the outfit, somewhat reminiscent from the Uniqlo show! Now all i need is a massive purple umbrella...
Over and Out...
So that's all from me on the LOOK Show blogging. I've had an amazing time as a finalist for this competition! Thank you to everyone involved, and I hope you have enjoyed my LOOK round ups. I'm so excited to be able to write about this competition on my CV! I finish uni in May and I'm looking to get into fashion online - so if anyone wants to snap me up, I make a great cup of tea and I am a LOOK Show blog competition finalist don't you know...
Amelia xo
(Best viewed in Firefox)
February 14th -
Summer Inspiration and LOOK Show.
February 15th -
Festival Fringe and LOOK Show Ramblings.
February 16th -
LOOK Show Outfit Potentials.
February 20th -
The LOOK Show: Part One.
February 22nd -
Bare with me (Featuring LOOK Show video)
.
February 22nd -
LOOK Show Part Two - The High Street's Hottest.