New Look.
Opening the show for New Look was Victoria's Secret model Petra Nemcova. Capturing the playful brand image by strutting her stuff with a constant smile. New Look delivered ditsy floral prints and beautiful bright colours to give you that summer feeling! Incorporating the shades of the season - Tangerine and Berry reds - into sophisticated tapered trousers and sheer shirts. Loosely tailored blouses and crochet knit jumpers were tucked in to a high waist to accentuate the feminine form. Creating light layering and playing with the infamous Seventies trend for Spring/Summer 11. For the accessories New Look represented brightly coloured duffle bags, gorgeous gold necklaces and sunglasses in a size Mary-Kate Olsen would be proud of.
Colour Palette: Shocking Pink, Acid Orange, Electric Blue, Tangerine, Berry Red and Crisp Whites.
Dorothy Perkins.
I've never seen High Street do floral that could look so designer, but the Spring/Summer range for Dorothy Perkins could give Christopher Kane and Jonathan Saunders a run for their money! Taking on board the summer colours with a pastel/acid twist yet still in completely wearable summer shift dresses. The cute Scalloped edge makes plain white tops and block coloured shorts stand out against the average hemline. Similarly to New Look, everything is sinched at the waist, giving the collection an elegance - as well as the crew cut neck lines and 50's style shirt dresses. My favourite piece from Dorothy Perkins was the mint green uneven hemmed dress. With minature floral embellishments and a sheer fabric that pratically floated down the catwalk.
Accessories to match the floral prints with brooches, floppy hats, boxy handbags and elegant strings of pearls.
Colour Palette: Tangerine, Aquamarine Green, Orange Sherbert, Crisp White and Sky Blue.

Uniqlo.
Uniqlo is a shop I rarely shop in, as there is no store in or around Bournemouth! I was aware of the preppy nature of the label and this range at the show did not disappoint! I love preppy chic, and uniqlo used a combination of bright colours against neutral shades to highlight a new kind of spring styling. The brand used a variety of ditsy prints and nautical stripes to create the clashing print trends arising this season. Loose fitted chinos and more tailored coats and knits gave the collection a casual yet classy element...with a hint of double denim. One of the more realistic collections for an English Summer, not only because models walked with Umbrella's, but for the appropriate lengths and styles of clothing. Accessories were minimal and preppy with clear lens glasses and plaited tans glasses.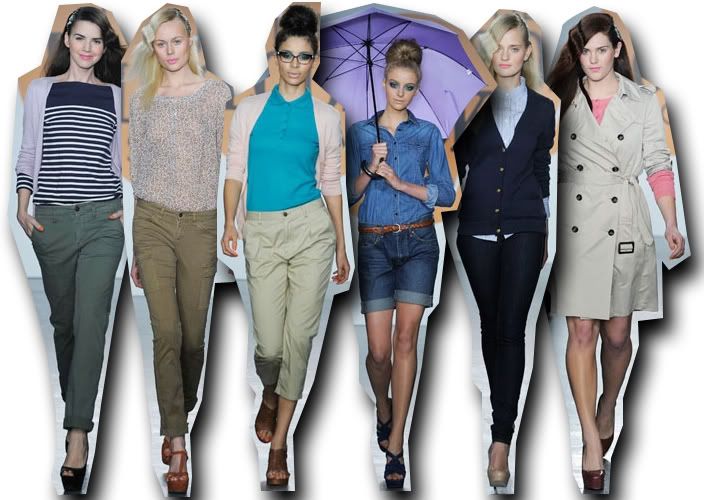 Colour Palettes: Creamy floral prints, Khaki's, Beige, Stone, Denim, Navy, Lilac, Baby pink and teal.
Monsoon.
Monsoon to me is towards the higher end of high street stores. Which was totally evident in the quality and craftmanship of the collection! Luxurious fabrics in silks, and manipulated chiffons into pleats bought to life a floaty spring/summer range. The models walked tall in glamorous silk jersey jumpsuits and cute paisley printed shift dresses. Prints were styled amongst dip dyed basics to give the 70's edge. The swimwear definitely perked up Shayne Ward - yeah i saw where you were looking Ward! Accessories took a tribal influence with feathered headbands, gold necklaces and tassled bags. Also a sophisticated glamour with hand held fans and heavily floral embellished belts!
Colour Palette: Navy, Violet, Aquamarine blue, orange sherbert, and pastel shades in pink and lilac.
Marks & Spencer.
Marks and Sparks! The kind of place synonymous with Percy pigs and Bridget Jones pants...Well not anymore! Easily one of the collections that had impressed me the most!! The collection went down a 'Nu Egypt' kind of route with Grecian style swimwear, crisp white shirts and blazers and animal print in bright colours (Think Burberry Prorsum SS11). They played with different textures including denim and leather for a variety of spring/summer looks each with an air of sophistication! Accessories made the most of gold with long line necklaces. Dark sophisticated sunglasses to rival Victoria Beckham and bright pink beach bags - a must have for a fashionista on holiday!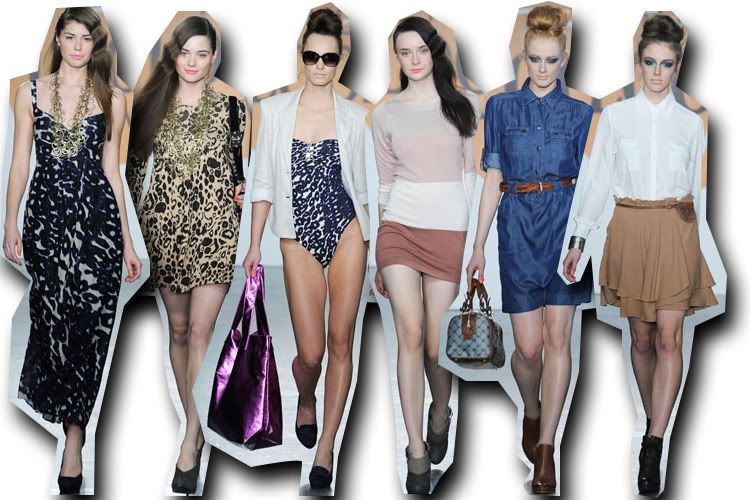 Colour Palette: Neutral shades - pale terracotta, beige, crisp whites, indigo, camel.
H&M.
H&M was colour central. Epitomising the word Summer. Did you know Olivia Palermo's dress was an H&M number? The Striped cropped tee reminds me of a Marc by Marc Jacobs collection! I love it paired with the two-tone pleated skirt, perfect for daytime chic. Satin and silks form the perfect looks for evening wear. The tangerine pastel colour strikes again bringing a two piece skirt suit into 2011 with retro stylings of knee high socks and T-Bar shoes! Cute bows incorporated into the outfits in belts and jacket fastenings for a demure playful feminine style. Colour block trends were evident throughout the H&M Range, with combination's of yellow, blues, greys and terracotta reds! Accessories were retro Vs tribal!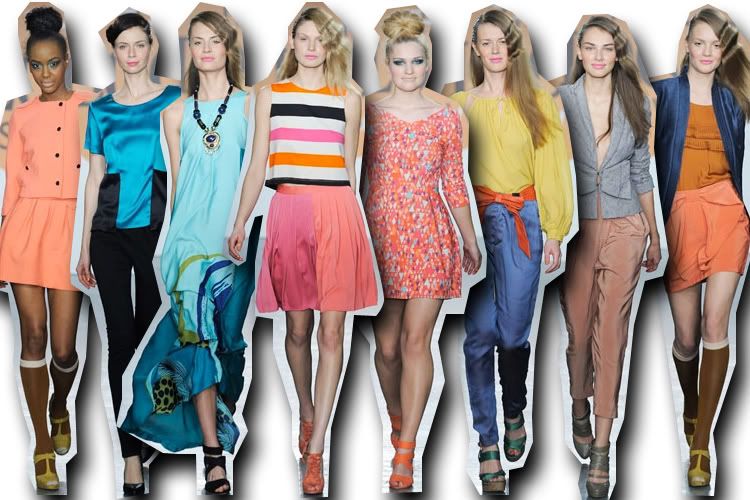 Colour Palette: Aqua Blue, Pastel peach, Turquoise, Indigo, Grey, Lemon Yellow, Pink sherbert, Terractotta.
Mango.
I must admit Mango nearly took my breath away. The asymmetric pleated dress alone was enough to make you go 'oooh' (Just watch it in Slow-mo on my
video
!) I found the styling of mango incorporated just about every trend going for Spring/summer!!! Floaty fabrics, Ditsy Florals, Midi Lengths, Peach Blazers, Accentuated waists, animal print and that 70's edge. Definitely a favourite for me. I love the layering of stripey luxe knits and floral shirts, not to mention the clashing prints. The yellow ditsy dress is to die for, and the python print silk shirt is the kind of glamour I'd love to pull off. The use of neutral shades vs Bright colours gives the range a vibrancy and sophistication I would associate with European chic - Well it is mango. I'm definitely shopping here more often! Waist belts galore in the accessories list, as well as oversized sunglasses and bright coloured clutch bags!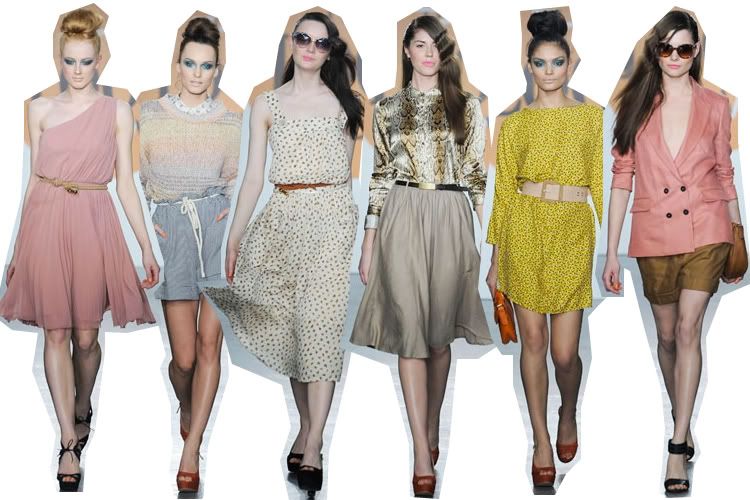 Colour Palette: Dusty pinks, Chambray Denim, Beige Grey, Canary Yellow, Camel, Peach.
Next.
Next love a print or two! In my notes from the show I've written what could roughly be translated to 'leafy' - well if by that I meant an ethnic/tribal arrangement of patterns then yes. Leafy it would be. I'm in love with the playsuit - the shape of it was everything you want in a playsuit. Good sleeve length, Good hem length, good neckline! And the Bow waist belt topped it all off! I shall definitely be purchasing this one and wearing it with my cropped leather jacket! The burnt orange sheer shirt is another favourite - the creative use of the contrasting neck tie illuminates the outfit - Palazzo pants at their best! Another concotion of tribal accessories with the added use of bows and tanned belts! I have about 8 tan belts - they are essential after all!
Colour Palette: Burnt Orange, Vibrant purple, moss green, dove grey, crisp white.
Warehouse Luxe.
Warehouse luxe oozes a sense of sophistication, crisp white tailored jumpsuits with cut out detail, and colour blocked midi dresses give an 80s vibe. As does the use of Flourescent yellow, stripey rainbow brights and animal prints! I'd call it 80's luxe. They even have crimped hair! I love the soft tailorings from the collection, It all looks so easy to wear. The majority of the garments are made from jersey, a spring/summer staple fabric! Definitely a brand you could make the day-to-night transition with nearly any outfit! Floppy hats and boxy satchels are about as far as the accessories went! But the fabric does the talking for you!
Colour Palette: Rainbow Brights, Canary Yellow, Berry Red, Crisp White, Animal Print, Dusty Pink, Black Leather.
River Island.
River Island is one of my favourite high street shops. In my opinion, the quality of their clothing has gone from strength to strength recently. I work part-time in a rather large R.I store and you still get the odd diamontéd garm or two, but the majority has developed in an elegantly stylish manor! I see elements of Marc by Marc Jacobs in outfits with clashing floral and striped prints. Influence from Jil Sander with colour blocked brights, Miu Miu style swallow prints and Erdem with classic floral shift dresses. I want want want the polka dot jumpsuit, but I think it will need a foot or two cut from the length (If you read this R.I a petite range would be much appreciated!). I love the crochet knit jumpers as dresses with bright vests underneath. Perfect for the phase inbetween Spring and Winter, where it's too cold for bare legs, but too warm for coats! There is so much wearable stuff from the range seen at the LOOK Show. It makes up half of my wish list! Love the envelope style clutch bags, Big sunglasses, oversized floppy hat, and scarf tie waistbelts!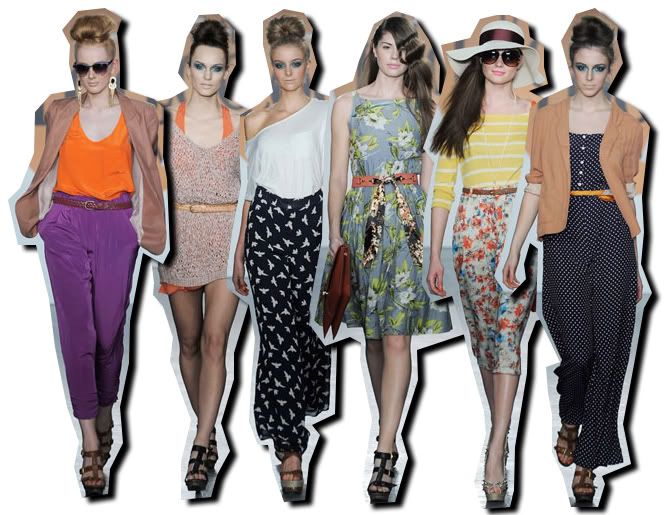 Colour Palettes: Vibrant Violet, Navy, Acid Orange, Yellows, Peach, Florals.
French Connection.
French Connection was the OOOOH and AAAAH collection of the show for me. The perfect finalé! The crisp white pleated maxi dress was divine! I love the powdery colours that make up the colour palette. The utilitarian blue boiler playsuit would be a great night time outfit for a hot summers night! As well as the floral printed jumpsuit. French Connection's use of leather and scalloped edge combination is a good contrast between hard and soft. The pretty embroidery on the shift dress was the perfect detail for a formal dress. Accessories in gold, bright orange, white and blue make for a colour co-ordinated collection.
Colour Palette: Crisp White, Navy, Pastel oranges, tanned leather, colbalt blue.
I think my favourite collection has to be Mango. I was so impressed by all though, and suprised by many! Marks and Spencer and Next aren't places I would usually shop in, but after seeing the show I'm going to make more of an effort to check them out! The same with Mango and Uniqlo!
Which is your favourite?
Amelia xo