Oscar time again! You may remember this post I did back in January,
Paris Spring Couture vs Oscar Outfit Predictions.
So how did I do... Well 3 of the actual dresses I predicted appeared on the Red Carpet, and 1 complete outfit/person combination came true! Not too shabby.
Natalie Portman
in Rodarte. Similar cut to the Alexis Mabille SS11 couture dress, perfect for flattering that baby bump! Apparently Rodarte was a last minute choice - she had planned on wearing Dior, but as she is Isreali she changed her mind (rightly so!)
Mila Kunis
- How annoyed am I. At the last minute I changed the Elie Saab dress for Mila and put it on Blake Lively? (Why did I think she would even be there!!!?)

My Predictions: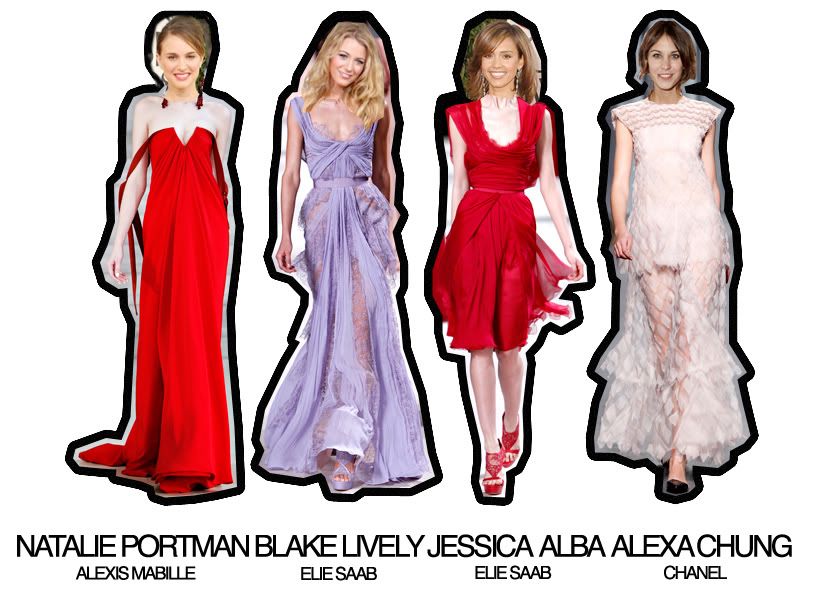 Scarlett Johansson
in an an all over lace Dolce & Gabanna number. I like the wine-red shade of the dress, but I can see her pants...
Florence Welch
at the Elton John after party wearing the Valentino that I envisaged on Anne Hathaway! It looks just as beautiful.

My Predictions:
Michelle Williams
in Chanel Haute Couture (as seen below) Although I think it's been slightly tailored for her. It looks amazing!
Nicole Kidman
wearing Dior despite the John Galliano Controversy. Can't say I'm a fan of the dress! Think she could have done a lot better!
My Predictions:


My Favourite Oscar Picks
:
Hailey Steinfeld
in a nude Marchesa gown. Rumour has it the 14 year old helped with the design?
Florence Welch
in another Valentino gown on the Red Carpet. Love the tiered silhouette and the shade of pastel yellow.
Cate Blanchet
t
in Givenchy Couture! It looks absolutely incredible, when I saw the spring/summer couture collection I loved it, but didn't think it would be wearable!
Amy Adams
in L'Wren Scott. She has an amazing figure and this really does it justice. I love the colour with her hair. Very glam!
Mandy Moore
in Monique Lhuillier. I think nude and sparkly is a common/boring choice for oscar dresses, but she pulls it off and looks so demure and elegant!
Hilary Swank
in a Gucci sequined and feathered masterpiece!
My '

You should have tried harder

' Picks:
Halle Berry
in Marchesa. Strapless, Nude, Tulle, Sequins, Next...
Reece Witherspoon
in Armani Privé. I think it adds years on her!
Gwyneth Paltrow
in Calvin Klein. Like the cut and the fit of the dress but the metallic appearance isn't working for me. I was expecting better things Gwyn!
Anne Hathaway
in Valentino. Just a bit bland really. Although she did have 7 other outfits to redeem herself. I haven't seen them all. If you get a chance google her hosting job - cringe!
PS.
The madness of Helena Bonham-Carter in an ensemble not too dis-similar to the Jean Paul Gaultier Couture I predicted. Well I suppose anything 1880s vampire-esque would work for her!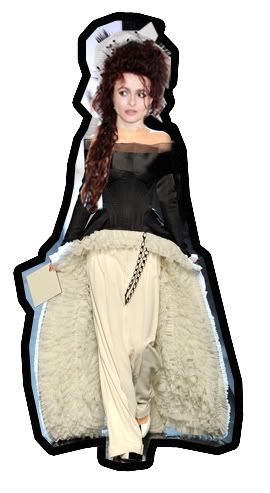 Hope you enjoyed my predictions! My ultimate favourites are Cate Blanchett, Mila Kunis and Michelle Williams! Did you have any? Which red carpet dresses were your favourites?
Amelia xo