Ed Meadham and Ben Kirchhoff form the creative design label Meadham Kirchhoff. Executed and crafted with extreme precision, the innovative designs from this forward thinking duo inject an individuality and unpredictable vision into British fashion. Claimed to be inspired by everything from feminism to Courtney Love, Meadham Kirchhoff have truly earned a space in my favourite designers list!
AW11/12
Reminiscent of Luella's AW08 Collection where Pagan chic meets Cruella De Vil. Layered lace fabrics with velvet pinnafores and folklore emboidery, the attention to detail is perfection. The true inspiration for this collection was infact uniform and uniformity. Explaining the school like uniform, hair bows and socks...with sandals!
Autumnal palettes of burnt sienna and pumpkin oranges in meticulously made woolen and knitted ensembles.
Halloween influences with chunky knitted menswear pieces - including a bewitching broom stick motif.


SS11
Hooray for multi-colours. Slinky, My little Pony, my Barbies after an appointment at Salon de la felt tip. The intriguing strangeness of Meadham Kirchhoff makes a name for itself standing out from any other Spring/Summer 2011 collection. Taking prints to a galactic new level, with exaggerated tie dyes and even new textures of paper snow flake cut outs.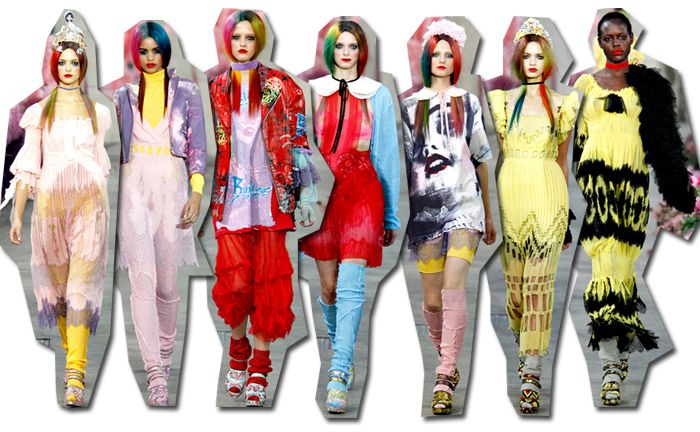 AW10/11
Inspired by princesses and Courtney Love, this AW10 collection looks like dressing up box action on acid. Not afraid to take risks, this luxury label never fails to please me visually. In fact, I would quite like to ambush their brains.
What do you think of the unpredictable duo? Some say they're like marmite - whether you like it visually or not, you can't possibly knock their meticulous craftmanship.
Amelia xo