Far Away Prints.
Is this a designers way of telling us they need a holiday? The Resort 2012 collections are a wash with prints from the far east, Mexico and Hawaii. Hinting at a print heavy spring/summer 2012. Preen went with a Japanese inspired collection as a tribute to the people of Japan. Where as Henry Holland took his inspiration from Mexican holiday 'Day of the Dead' which is bang on for the predicted Aztec/South American summer trend. Has Prada paved the way for print heavy collections? I'm yet to see a banana in sight...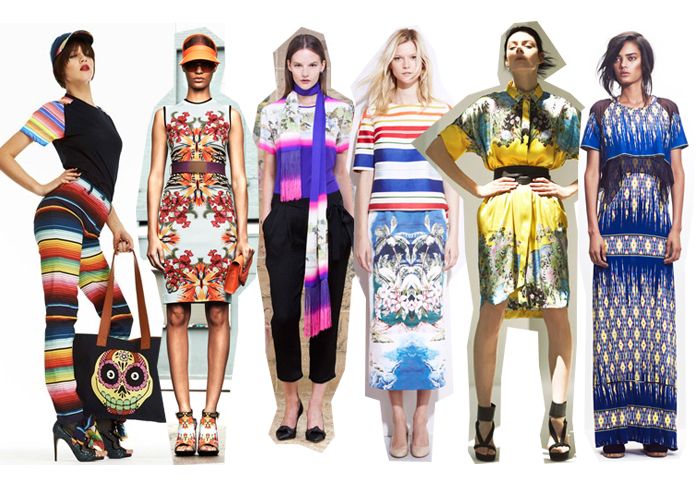 L-R: House of Holland, Givenchy, Matthew Williamson, Stella McCartney, Preen, Jen Kao.
Cigarette Chic.
No. I'm not condoning smoking. Just an observation of the chicest trouser shape in fashion lands. Continuing to be influenced by the 60s era, a mod trend has surfaced. Love Stella's canary yellow blazer, taking the masculine over feminine approach. Whilst Pringle displays with obvious Pierre Cardin influences with the cut out, high neck top. Louis Vuitton is explicitly displaying it's mod inspiration - nothing does quite say sixties like a vespa helmet.
L-R: Stella McCartney, Emporio Armani, Pringle, Mulberry, Louis Vuitton, Marc by Marc Jacobs.
Urban Bohemia
.
Light and loose for the city girl, Urban Bohemia is a new take on relaxed tailoring and sheer fabrics. With slight 70's influences, pleats live on with Celine, and everything is floaty with The Row. The power of the trouser is evident from Burberry, Peter Pilotto and Helmut Lang. With an 'anything you can do we can do better' message to the boys.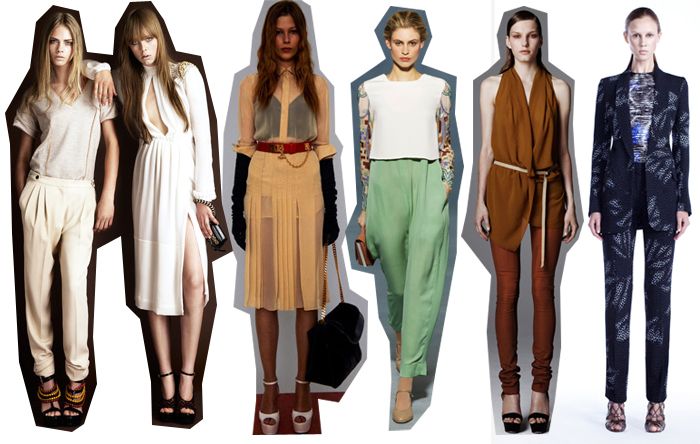 L-R: Burberry Prorsum, Celine, The Row, Helmut Lang, Peter Pilotto.
Sports Aesthetic.
Sportswear we can all get along with. Racing stripes and Bomber jackets taken into the modern world, it's that good old argument of Fashion vs Sportswear. Alberta Ferreti does athlete on call, whilst Max Azria conquers Athlete off duty. Possible style tips for the 2012 Olympics - imagine a syncronised swimming team in that Michael Kors ensemble. To. Die. For.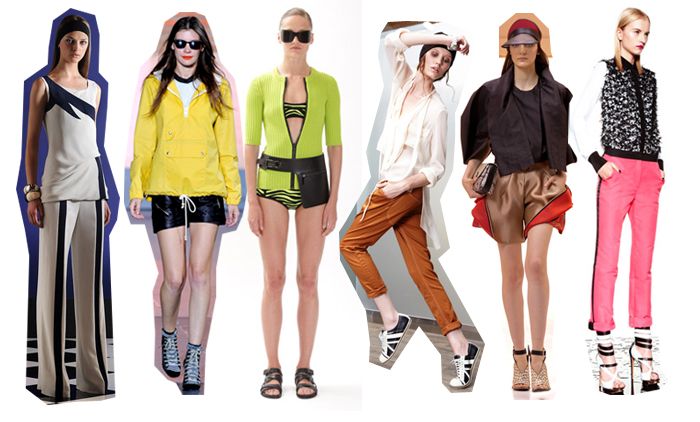 L-R: Alberta Ferreti, Band of Outsiders, Michael Kors, Max Azria, Balenciaga, Prabal Gurung.
What do you think of my emerging trends for Spring/Summer 2012? Are you sporty chic or Mod pro? I'm a Mod Girl. Obsessed with the 60's. Forever and ever amen!
Amelia xo